Home
Main content starts here, tab to start navigating

Slide 1 of 7
Slide 2 of 7
Slide 3 of 7
Slide 4 of 7
Slide 5 of 7
Slide 6 of 7
Slide 7 of 7
healthy, wholesome, flavorful freezer meals, from the freezer to your Instant Pot in seconds
What we offer
Monthly Meals
Sign up for Monthly Meals and enjoy preassembled frozen meals every month at an incredible discounted price. Simply place an order online or come by the store and grab what you need.
Fill Your Freezer Parties
Join us for a one hour InstaFreeze Meals class where you can assemble 15 of your own Instant Pot freezer meals, all while meeting new friends and having a good time - no chopping or clean-up required!
Grab & Go
Short on time and energy? Forget the drive-thru! Swing by our store and grab an Instant Pot freezer meal on your way home and have dinner cooking in seconds.
See Our Plans
Watch to learn more about InstaFreeze Meals
Compare Our Plans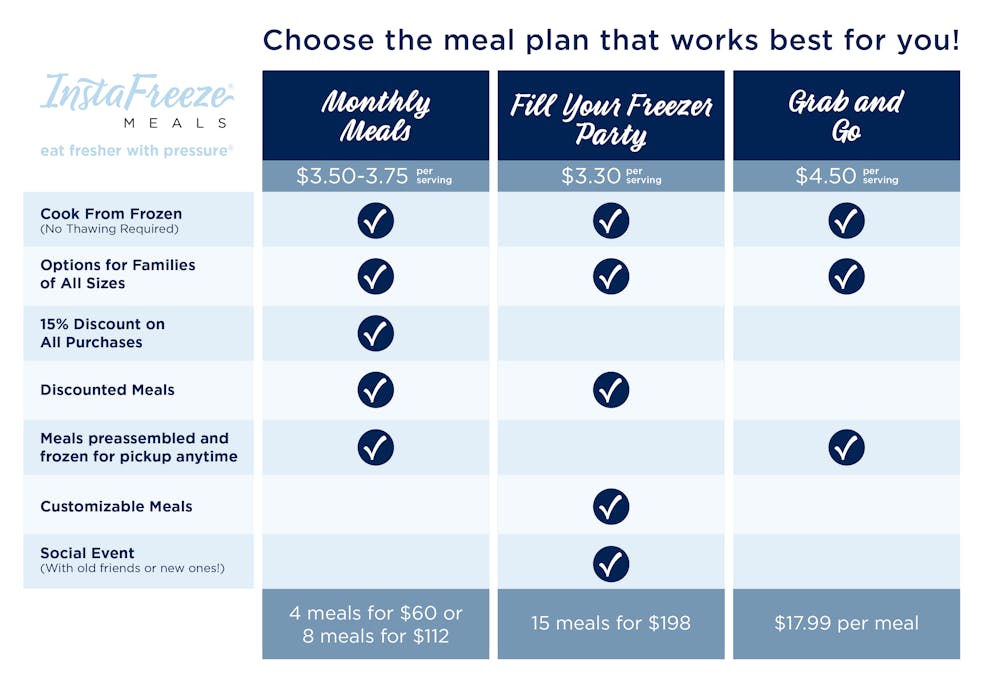 Why You Will Love InstaFreeze Meals
Eat Fresher With Pressure
Unlike many of the options in the freezer aisle, our family friendly meals start with whole, fresh ingredients, that are immediately frozen to preserve nutrients. Your meals will taste like a trip straight from the market!
Save Time And Money
Dinner prep under a minute? How does that sound after a long work day?! Press start on your Instant Pot and kick up your legs or play with your family. Did we mention all the money you'll save by skipping on takeout? Spend that money on a well deserved vacation instead.
Life Is Calling, Don't Find Yourself Stuck In The Kitchen
With Over 30 Meals To Choose From, We've Got You Covered From Breakfast To Dinner.
Note: Meals Are Easily Gluten Free Adaptable Too!
Did you know we offer a new "Limited Time Meal" every 2 weeks? Once this meal is gone, it's gone, and there's no telling when or if it'll be back! Stay in the know by signing up below.
Sign up for Limited Time Meal announcements